Like it or not, the old office culture is dead. In this new world of hybrid working, how do we connect with colleagues in meaningful ways and stay connected?
We've been working on something called 'SPARCKie connect' which, for us, seems to be part of the solution – and might be something your organisation could benefit from too.
It's a structure for helping people spend time connecting with each other even if they're working remotely, or in offices across the UK and around the world. (We've got more than a hundred people working in 12 locations as far apart as Houston and Copenhagen – with more on the way.)
It's not about work, not directly, but is structured, unlike those awkward Zoom tea breaks we all endured a couple of years ago.
I'm going to explain how it works in more detail but first, let's have a look at how it evolved into its present form, as the result (of course) of an iterative design process.
An unwilling mentor
In January 2020 I joined SPARCK as a fresh(ish)-faced Digital Consultant based in Leeds, the epicentre of God's Own Country.
I was asked by my line manager at the time if I'd like to mentor one of the team members. They were less experienced than me and willing to learn from someone more experienced, with some perceived-yet-suspect wisdom. My mouth moved faster than my brain and I said: "Yes."
In our very first mentoring session I realised the error of my ways and suggested we bin that idea. Instead, I suggested we could alternate the roles of mentor and mentee.
That's similar to what Monzo would later call 'Mutual Mentoring'.
I'm a firm believer in all relationships being two way. I've seen many workplace mentoring programmes and relationships implode under the sheer weight of their own bureaucratic, hierarchical and administrative foundations. No thanks.
We didn't want to implode under any kind of weight or expectation. We wanted to fly.
Welcomed back down to earth
After three months of clandestine mentor-mentee activities, a business notification alerting us to a new mentoring scheme for the Leeds BJSS team landed in our inboxes.
We took this opportunity to share what we'd been up to and when we talked about the work we'd been doing with fellow SPARCKies (SPARCK team members) across the globe, they loved it.
And so, Mentor-Mentoring was born, just as COVID-19 began to bite and working from home became the new normal.
The scaled-up concept entailed a four-week process, consisting of 30-minute weekly calls with a specified partner.
The aim was to connect SPARCKies so they could share knowledge, experiences and expertise.
A Miro board was created to visually capture all the conversations, designed to showcase our people and inspire more SPARCKies to connect in the future.
A further experiment was conducted, taking on the feedback and running the same process for eight weeks. (That's what we do at SPARCK – test with users, get feedback, iterate, test again.)
That didn't work, as it happens – the time between sessions was just too long to maintain the connection.
Connection trumps skills
After nearly 18 months of back-to-back projects, including supporting a council on their automation strategy, building a COVID-19 testing contact centre, and conducting a discovery into AI imaging in healthcare, I finally got some time off project, AKA being on the bench.
Some fellow SPARCKies and I used this time to evaluate the Mentor-Mentoring concept and plan how to make it more sustainable and successful in the future.
Through gathering participant feedback, one overwhelming yet surprising insight emerged: people valued connection above all else.
Skill sharing, mentoring, knowledge sharing, and onboarding support were all seen as valuable components, but finding new, meaningful connections in a safe and supportive space were seen as the glue that held the whole concept together.
What mattered was knowing there was someone you could talk to.
Mentor-Mentoring was set alight. A new approach we called SPARCKie Connect emerged from the ashes.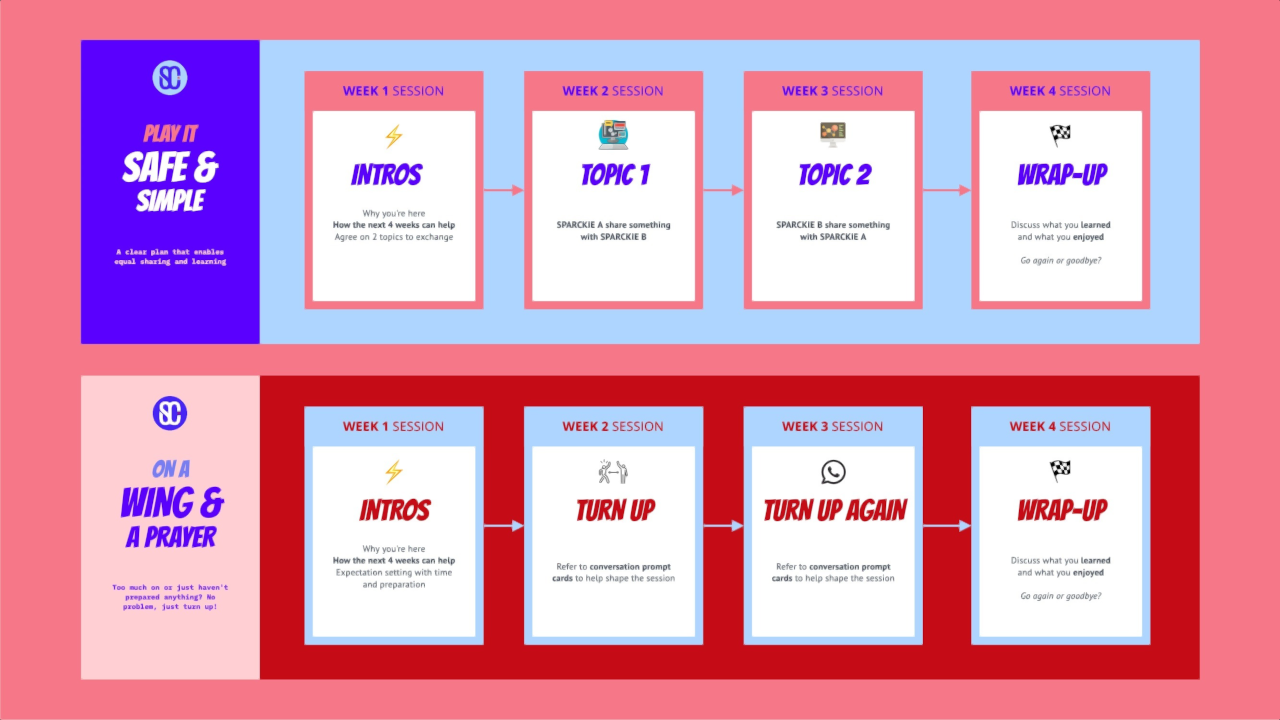 Open-top cultural sightseeing
Thinking ahead to the impending time and energy investment required to support upcoming client projects, we reflected on how to make SPARCKie Connect more efficient.
We were mindful that within a consultancy there can be frequent (and significant) fluctuation in terms of focus, energy and motivation.
A lot depends on the project you're working on, who you're working with, and how well it aligns to your capabilities.
One month your focus may be about upskilling in a certain area, next month you might be thinking about your broader career development. And in another, you might just want to share some of your life stories.
What we wanted to do was create an approach that supported and reflected our working culture, which made it easy to dip in and out, while also being able to engage around things you were interested in at any given time.
A bit like a hop-on, hop-off tourist bus.
The resulting solution looked like the following:
Sign up and introduction session preceding each four-week engagement window
SPARCKie Connect profiles to capture what people wanted to share, learn about, or discuss in advance of the process kicking off
24-hour-turnaround of SPARCKies completing profiles through to them being paired up, based on common interests and partner preferences
The tried and tested four-week, 30-minute call each week approach using Miro as the tool to visually record conversations and prompt future connections
Session structures and conversational prompts to help guide the 30-minute calls and mitigate the burden of people feeling like they had to prepare in advance
Regular cadence of four-weeks on, with two-to-three weeks off, so people don't feel burned out.
Did it work
Well, we thought it did. But what about everyone else?
"I love crafts and being creative but don't do as much as I'd like because I worry about doing it badly and the end results looking rubbish," says Ella Welsby, a Product Designer based in Manchester. "My conversation partner gave me a challenge: do some paintings and then rip them up straight afterward. Because things don't have to be perfect and, anyway, it's about the pleasure of doing the painting, not the painting itself. So I did it and found it really helpful. In fact, I'd say it's influenced my design work for the better because it's made me a bit less stressed."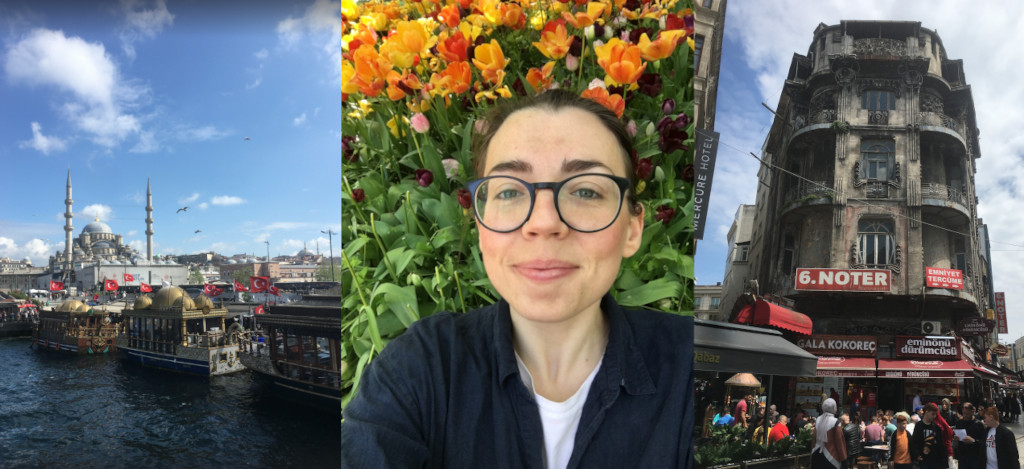 "One of my pairings was with Amanda, a colleague based in our New York office," says Imogen Aylwin, a Service Designer in the London office. "During our four sessions we discussed everything from psychology, to the places we've travelled, to what sparks or hinders our creativity. During our fourth and final session, Amanda shared stories of her experiences travelling solo and inspired me to take my first ever solo trip, to Istanbul. Had it not been for SPARCKie Connect and Amanda, I wouldn't have been inspired to venture on this solo exploration. It gave me the confidence to know I can explore the world, on my own time and my own agenda."
Amanda echoes that: "SPARCKie Connect is like an unplanned trip to an unknown destination. I have met so many friends from all around the world, connecting with me not only during the trip, but also after. This connection is unexpected and that's the beauty of it!"
Emma Layton, our Head of People and Culture, was interested in how it helped people overcome structural barriers: "It generates organic peer-to-peer relationships. Leadership roles can carry an implicit hierarchy, for example, but activities like SPARCKie Connect encourage us to break that down and form meaningful connections."
"It's just nice to connect with someone you haven't met," says Ashley Brown, another Service Designer. "SPARCK is growing quickly and it can be hard to keep track of who's who and who's new. SPARCKie connect has been a nice bridge between offices and countries."
Digital wellbeing and beyond
Now more than two and a half years into this experiment, the concept is expanding, and my investment is increasing with the strong support of my colleagues to help connect as many people as possible in both SPARCK and in our sibling organisation, BJSS.
Most recently we ran our first themed SPARCKie Connect, creating conversation structures and prompts based around digital wellbeing in a hybrid world. How do we feel connected when we don't always meet in person, and when the organisation is largely virtual?
This version attracted the highest number of participants so far. People really wanted to talk about this.
It also provided a huge amount of insight to help guide our own culture strategy, to make sure we have the best support mechanisms in place for SPARCKies working across the UK and around the world.
To support Black History Month, we've created new prompts and stimulus for pairings to discuss inclusion, diversity, and the concept of Afrofuturism.
In parallel, we've put together a version for our BJSS Business Consulting colleagues which we're calling Consulting Connect.
In November, we'll be doing SPARCKie + Consulting Connect to bring together people from SPARCK and BJSS Business Consulting.
To kick off 2023, we'll be developing a Project Connect framework to help build understanding, connection, and effectiveness between people on projects in different roles.
Meaning trumps efficiency
If it's not already apparent, SPARCKie Connect is a completely manual process.
Fellow facilitators and I have to plan each four-week cycle, run one-hour kick-offs, and manually read through profiles to pair people based on what they've said, and what we know about them.
It's biased, of course, and it's time consuming. But it's an ever-evolving process. And while many digital mentoring platforms exist that could to a large degree automate this process, and improve it in some ways, we'd never go near them.
The fact is, in every round of SPARCKie Connect, we personally enjoy inviting people, learning about them, and helping them by pairing them with the best partner available.
It's all part of keeping this human.
The answer to the challenge of the new normal?
In a hybrid working world, the golden rule is making the implicit explicit.
It's about challenging the assumption everyone is OK, that everyone feels connected, and that they wake up each morning with a burning purpose to serve their employer.
If you sometimes reflect on how the pandemic has changed how we connect meaningfully and if you care deeply about the people you work with, this might be something for you.
SPARCK is the design and innovation arm of BJSS. Core to enabling individual and collective innovation is connecting people of diverse backgrounds, diverse skills and diverse perspectives.
SPARCKie Connect is, if nothing, an attempt to keep a light on for anyone in SPARCK, looking to learn more, share more and connect with some real meaning. An initiative that perhaps helps people feel like hybrid working is genuinely a better 'new normal'.
Try the Connect approach in your organisation
If you'd like a more detailed overview of SPARCKie Connect or would like to trial the process in your organisation using the Miro templates and guidance created, please get in touch. I'm always happy to talk and to share. I'm on LinkedIn or you can email me: jimmy.adams@sparck.io.