We've been getting people together for the past year and asking them to make paper aeroplanes. Why? To help them understand how designers think.
Design thinking is essential at SPARCK. Along with human-centred design, it's a core concept defining our culture and approach to our work.
But many of the developers and engineers at our sibling company BJSS have either not worked closely with designers or not done so very often.
As a result, we often hear people on projects asking, "What exactly is it that designers do?"
And Paul Bailey, our Head of Design, thought, right, well, we need to find a way to answer that question, don't we?
Paul came up with 'Say hello to design thinking' as a way to make our culture and processes more visible and to help us all have a bit of fun, face to face, after a couple of years stuck on Zoom calls.
My colleague Harriet de Wet, a Service Designer based in our Glasgow office, sums it up nicely; "Devs don't need to be design thinking experts, but they do need to understand our ways of working to get the most out of the partnership."
That's why, since the start of 2022, we've delivered a dozen workshops in as many different offices, from Nottingham, UK, to Houston, USA, involving almost 200 attendees across BJSS and SPARCK.
What is design thinking, and why does it matter?
"Design thinking is a human-centred approach to innovation that draws from the designer's toolkit to integrate the needs of the people, the possibilities of technology, and the requirements for business success." – Tim Brown, Change by Design, 2009
That quote is from one of the first books to pull all this together, and at SPARCK, we come back to it often.
It does a great job of capturing the balance that needs to be struck between the needs of users, and the needs of the organisations that serve them. And, of course, the role of technology in achieving that.
Design thinking is more than a buzz phrase. Some of the world's largest corporations use it to drive innovation – and feel the benefits of doing so.
IBM has invested billions of dollars in building an entire design thinking practice. According to an economic impact report (PDF) it has:
reduced risk and increased profitability with a 300% return on investment
doubled the number of products released to the market
improved collaboration across cross-functional teams.
In practice, design thinking is a framework that helps teams of designers and user researchers collaborate efficiently, understand users, innovate, and quickly develop a viable product.
Try Googling "design thinking diagram", and you'll see hundreds of attempts to visualise the process.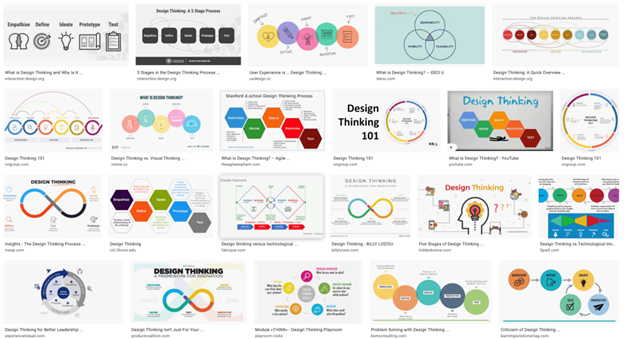 What most versions have in common is a sort of wave motion from broad (discovery) to specific (a prototype for testing), back to broad (iteration), and then back to specific again – that is, a finished product.
We sometimes call this 'the double diamond'.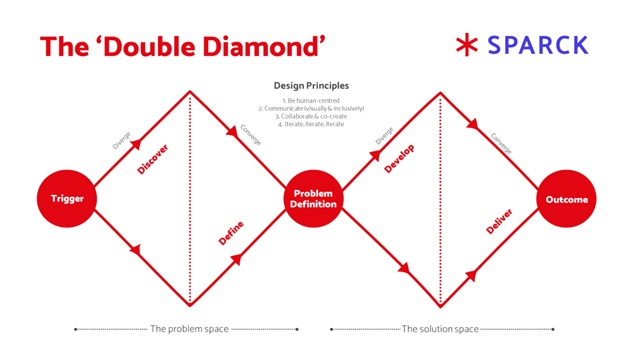 From the outside, this can seem puzzling, especially if you're used to the more structured approach of sprints, with tasks on tickets.
To tackle this, we try to be open about our process. We invite BJSS colleagues, from engineers and information architects, to business analysts and project managers, to join us in collaborative sessions.
We also deliver frequent show-and-tells so people can understand where we are in the double diamond and what we've learned.
The 'Say hello' workshops are a pre-emptive way of extending that openness and collaboration. They give people who might never have worked on a project with SPARCK designers the opportunity to understand our contribution – and perhaps to realise we're the missing ingredient they've been looking for.
How do you make a paper aeroplane?
"This workshop is effective because it combines play and learning, which makes it easier to get people engaged in the concept of design thinking," says Julia Silva, another service design colleague based in Leeds.
After all, who wouldn't want to take a break from the day job to make and throw paper aeroplanes? It's something most of us haven't done for years, and which connects us deeply with our younger (freer, less serious) selves.
There is a twist, though: writing instructions for someone else to follow is difficult. Your assumptions tend to get in the way, for one thing. Surely people will know what we mean by "fold in half", won't they?
And when your user group insists on following the instructions to the letter... Well, we've seen some very weird paper aeroplanes flopping across office floors, let's put it that way.
"It really gets people thinking about how hard it is to create clear guidelines," says Imogen Aylwin, a SPARCK Service Designer based in London. "It reminds me of that fab video of children creating instructions for their dad to make a peanut butter and jam sandwich."
It's also interesting to see people reject a complex, dazzling design for a plane in favour of something less exciting but for which it's easier to write clear instructions.
"The workshop is such a smart way to understand the importance of thinking about the user and designing with them in mind," says Julia. "And to learn to test, test, test!"
"The workshop is snappy and to the point," says Harriet. "It's got a perfect blend of real-life impact, connecting with the audience, and getting your hands dirty."
How does design thinking help in practice?
Harriet's point about "real-life impact" is important. We don't run these workshops for the sake of it or because we want a few carefree hours, but because they help us deliver for clients and users.
The award-winning work we did with the Driver and Vehicle Standards Agency (DVSA) on digital driving tests offers a great case study of how design thinking applies in the real world.
At the end of each 'Say hello' workshop, with the paper plane experiment fresh in everyone's minds, we circle back to four key questions every team needs to ask during a project:
Whom are we designing for, and what are their needs?
App, web page, paper form... Why are we doing what we are doing?
How do we validate our assumptions?
What metrics will tell us if we've been successful?
Design thinking – and the practice of design – isn't about sitting in rooms engaging in endless flights of fancy (pun intended) but about finding solutions we can put in front of users today, tomorrow, and as soon as possible.
And running 'Say hello to design thinking' workshops with our IT colleagues is invaluable in helping them understand and embrace the value of our work.
Join our design thinking community
Even if you don't work at SPARCK (yet – we are hiring), we'd love to connect with our fellow designers and researchers across the industry.
You can follow SPARCK on LinkedIn and Twitter and add this blog to your bookmarks.
Or, if you'd rather connect person-to-person, you'll find most of us on LinkedIn sharing our thoughts, insights and advice.