The Global Movement Growth team are an accelerator within Amnesty International, and it is their mission to help priority countries around the world to achieve ambitious supporter acquisition and retention targets.
The team engaged SPARCK to help them replicate the accelerators success globally, and provide a sustainable vision for future growth.
In 10 weeks, a Service Designer and UX Consultant duo worked closely with the Global Growth Movement team to research, design and develop a digital playbook, methodology and operating model for growth.
Not one, but two challenges
After reflecting on a host of insights gathered over the two-year project and new user research, we knew that countries differed significantly in their 'maturity', and had a wide variety of internal structures, capabilities, resources and priorities. It was important that the project could flex to these varying needs of each priority country, whilst also providing the much needed structure and direction at a holistic level. Alongside this, the outcomes achieved needed to be tangible and sustainable for the growth team — which is a lean team of just three people, located in three different continents. And, finally, the outcomes needed to be robust enough to survive future structural and strategic developments from within Amnesty headquarters.
It was important that the project could flex to the varying needs of each priority country, whilst providing the much needed structure and direction at a holistic level.
In parallel, the team also set out to define:
The Growth Model, which distilled accessible and universal principles for growth across the movement, highlighted strengths and weaknesses in existing initiatives, and acted as the 'North Star' for future decisions.
A complementary operating model that was flexible so that resources could be used in unconventional ways to deliver quick results and scale over time.
But, with human rights at the heart of all priorities at Amnesty International, the project also needed to make the case for why the Growth Model created an important impact, and the practical steps to achieve it.
Through an iterative Design Thinking approach, priority MVP-style (Minimum Viable Product) content was identified and designed. By developing two content tracks — 'I know what I want' and 'I know what problem to solve' —, we were able to:
Cater for different degrees of maturity around the world.
Help individuals to quickly fulfil directives or resource recommendations from peers and leaders.
Tell the whole story, providing context for what, when and why tools should be used, without being unnecessarily overbearing.
A suitable home for this resource didn't exist, so in cooperation with other Amnesty International departments, the team adapted a branded template site, known internally as 'the Alpha site', to build a simple, multi-lingual, working website in just one day.
The Global Movement Growth team now have a sustainable method to expand the impact of the accelerator programme, with a clear roadmap to build upon.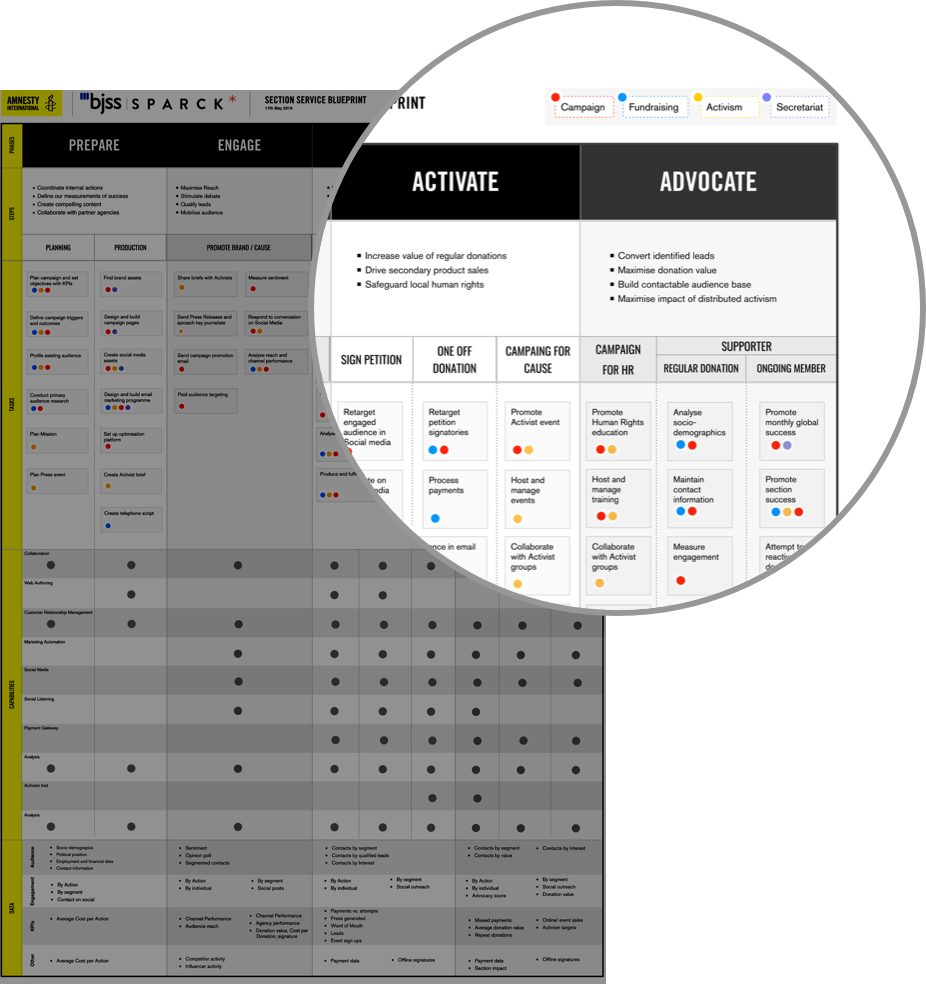 The Growth Maturity blueprint overlays movement-wide, growth team and headquarter interests into a single working model aimed at supporting growth and maximising the resources available. Special attention was paid to developing self-sufficiency within priority countries, and developing future leaders who could informally augment the core team by delivering coaching and mentoring.
Based on community and co-ownership, this sustainable and user-centred initiative delivers the following outcomes:
It improves how the Amnesty Growth Movement thinks about their Supporters.
It sets out and develops the capabilities that each country should embed.
It provides coaching and self-service learning through the tools and content designed.
It establishes key success measures aiming to unlock future resources.