The electric vehicle industry is taking off, and already a handful of innovative startups have an edge above the rest, by combining new technology with incredible user experiences. Our challenge was to develop an experience that could compete in this space, creating a seamless process for users to install an EV charger in the home, while being mindful of the limitations in place from the hardware that would support this experience.

Together with our client, we released a home-charging app experience for their electric vehicle customers, where users can manage their home unit and create a charging schedule that fits with their lifestyle.
We designed with a diverse audience in mind, including tailored journeys for children and their guardians, for visitors to the UK, as well as an offline 'assisted digital' journey with phone support, a paper test and registration process. Supporting the service, we implemented an admin portal for call centre staff to support the new service. The app was released to Apple App and Google Play stores within 36 business days of starting the project. An in-built analytics will allow our client to track user interactions and learn more about their customer's needs, enabling continuous iterations and improvements based on real customer insights.
to plan, design, and deliver
estimated new users after release
driving around in electric vehicles for our research
of our designs from prototyping and testing
36 days from Concept to Launch
As with many of our projects, we established a cross-functional delivery team alongside our BJSS colleagues, which included researchers, designers, developers, integration experts, Enterprise Agile delivery leads, business analysts, and software testers. We blended Design Thinking with Agile and Lean methodologies which was a huge benefit and made it possible to deliver the Minimum Viable Product (MVP) in just 36 business days.
Our initial research phase gave us a good understanding of users motivations, frustrations, needs and wants, as well as understanding their expectations of the future of this industry. This gave us valuable insights, such as that some users preferred to set their car to charge at very specific hours to save them money, sometimes determined by a late-night energy tariff. Other users were intimidated by the details required for creating schedules according to times and tariffs, and so would prefer to simply arrange for their car to be fully charged and ready to drive in the morning.
We collated and mapped our findings into current and ideal user journeys, and used them to inform the design of our initial wireframes. After turning these early wireframes into clickable prototypes, we tested two approaches to scheduling, as well as the layout of the app, with target customers. Users were introduced to a basic 'charge me til' version, for those simply wanting a full charge in the morning – and an 'advanced' version – for those with stricter charging requirements.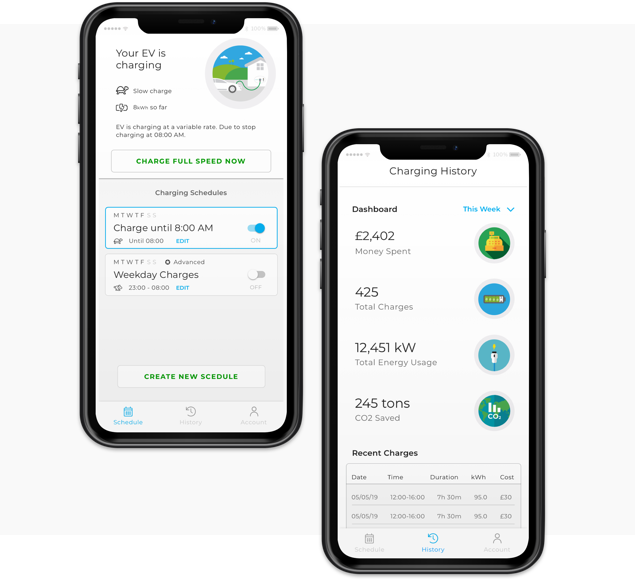 Have a project for us?
Whether you have a business challenge for us, or you just want to hear more about what we do, we'd love to hear from you.