If you are reading this article while working from home or in a nearby coffee shop, it might mean that your company has put into place their Coronavirus contingency plan.
Last week, SPARCK quickly activated their plan in order to avoid cross-contamination and further spread of the virus, which means I actually wrote this article while laying down on my sofa with the laundry on.
Yes, these are some of the perks of working from home for employees, and that's one of the reasons why many companies have been trying to adopt it for many years now. It gives employees a better work-life balance, way more flexibility and helps to slow down the pace and lifestyle of workers, especially those living in big cities such as London.
When I started to write this article, I was going to focus it on the bunch of tools we have out there that allow companies to apply a successful working from home approach. I was going to talk about the endless opportunities we all have to keep up our productivity and collaboration with peers across the country if needed. Tools like Miro and Zoom can be used to have remote co-design sessions with over 40 participants at a time; as we proved at SPARCK last week, which was mesmerising to my eyes.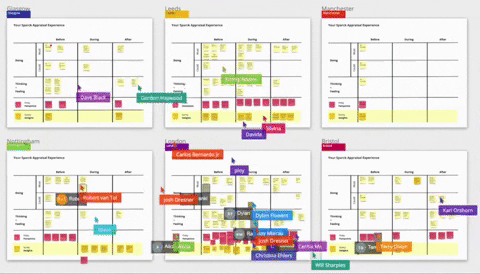 However, after giving it some more thought, I realised that the main reason why working from home works well for some companies is not actually the numerous on-the-go tech tools that are out there. The main reason it works so well is down to a company's culture.
I believe that culture is the most important enabler for remote working. To prove it, I'll show how three of our culture values at SPARCK enable us to work from home while still being productive.
We believe in trust, not control!
Having a mindset of trust, not control, allows employees to work from home without any fear or concern that they have to show results, only to prove that they are truly working, rather than watching Netflix. They do it because they know there is trust in what they do, regardless of where they are working. They do it because there is passion for what they do, and motivation to get it done.
So, a key thing to be productive while working from home is to love what you do!
We embrace ambiguity, and adapt!
Another thing that makes working from home successful is the ability to adapt, and we do this a lot in SPARCK. One of the key drivers affecting change in the way we work is the millennial workforce, who are known for loving being on the move and changing sceneries. But the main reason why we are so good at that is because we embrace ambiguity and we adapt! We don't hold onto a desk or a specific tool only because that's what we have been using for ages, and it works. We like trying new things and to innovate. It actually boosts our creativity and encourages innovative thinking.
We encourage collaboration
Most importantly, to make working from home 100% successful, your employees must be masters of collaboration! You need to feel that you are part of a team at all times, regardless of the physical space you are in. Having someone you can bounce ideas off, or someone who can provide support when needed is key to making sure working from home can succeed and productivity levels are up at all times. At SPARCK, we use Slack for this. We call it our 'hive mind', where at any moment we can pick the collective brains of all of SPARCK when facing a challenge that we need help with!
Does your company trust their employees? Are you willing to adapt and embrace changes? Do you have a collaborative team? Do you have access to remote collaborative tools such as Miro, Slack and Zoom? If so, then you are ready to make working from home work easy for you and your bosses!
However, if the answer is no to all of the above, then come and join us! Here at SPARCK, we are proud of our culture and we are all set for remote working if needed; however, if truth is to be told, we don't do it that much! We have so much fun spending time together that we often prefer to be in the office!