Welcome to the first article in our three-part series on how Covid-19 has transformed how we work. As user researchers at SPARCK, we naturally jumped at the opportunity to explore peoples' experiences in the first six months of remote-first working and decided to kick off a global research to capture peoples' reflections.
In this article, we share insights about the positives that emerged. In the upcoming blog posts, we will talk about the negatives, and also physical and operational changes to offices and office culture in this new working model.
Adapt to your participants' needs
The beginning of the Covid-19 pandemic forced new ways of working onto many people across the world. The mass switch to home working to reduce movement and infection resulted in losing boundaries between home and office. We didn't have any choice in the matter.
Last September we sent out a survey to understand how working remotely has affected employees' productivity and well-being. What did people miss about going into an office every day? What benefits were there to remote-first work? How often were people visiting their office?
136 people from all over the world completed it, going from Argentina and Canada to Ivory Coast and Malaysia. However, 70% of respondents were based in the UK. Our research targeted people who, before the pandemic, were primarily office workers, working at the same company for that previous six months.
Although it's been a difficult year for everybody, many of us have found ways to make things work. As the year is coming to an end, we would like to celebrate the resilience, positive thinking and adaptability shown by many of you; along with many organisations and leaders who have managed to adapt and make changes to their way of working, humanising the work experience of their employees.
For those who have struggled to adjust to this new normal, do not despair! You are not alone. In our next article, we will share insights and findings about the negative impact of working remotely and what both employees and employers can do to overcome those challenges.
What did office workers gain from working from home?
1. More flexibility and autonomy
When lockdown started in March 2020, there was a world of uncertainty. What was work going to look like? Could we remain productive when all workers were remote? A few weeks passed and many office workers managed to adapt to the new normal by implementing new routines or work habits.
Employees reported they appreciated the new flexibility to work around a schedule that worked for them. Many had a much better work-life balance, higher levels of productivity and well-being. This flexibility has seen people work in non-conventional productivity peak hours such as late night working, or fit work around their family commitments. The idea of core hours to be available is gathering momentum.
"I can be more flexible with my work hours and also work easily from other places to help support other family members during this time." Betty, UK
2. More control over time
During the working day people said they'd gained more focus time and had fewer interruptions while working remotely. Remote work creates an opportunity to work on specific tasks or do deep work without any background noise, meetings and distractions. This has been reflected in productivity levels. 40% of respondents stated that their productivity had 'greatly improved' or 'improved' and that it's now easier to balance focus time with transactional work.
"It's easier to concentrate on large tasks, because I can shut the door and turn off, and just be one with my work." Betty, UK
Working from home also killed the commute. Employees have reclaimed the hours saved to do other things. Many people have spent that extra time with loved ones. According to a recent Harvard research conducted in the US, 68% of surveyed fathers reported feeling either 'closer' or 'much closer' to their children since the pandemic began.
For some of the respondents, the pandemic has allowed them to spend more time with themselves by practicing self-care and focusing on their own well being. More time at home meant people could start a new course or a hobby; found more time to support the local community, or reflect on what is or isn't working in lives.
"I gain the extra 20 hours a week I spend on making myself better, learning, exercising, chatting with colleagues online." Josephine and Betty, UK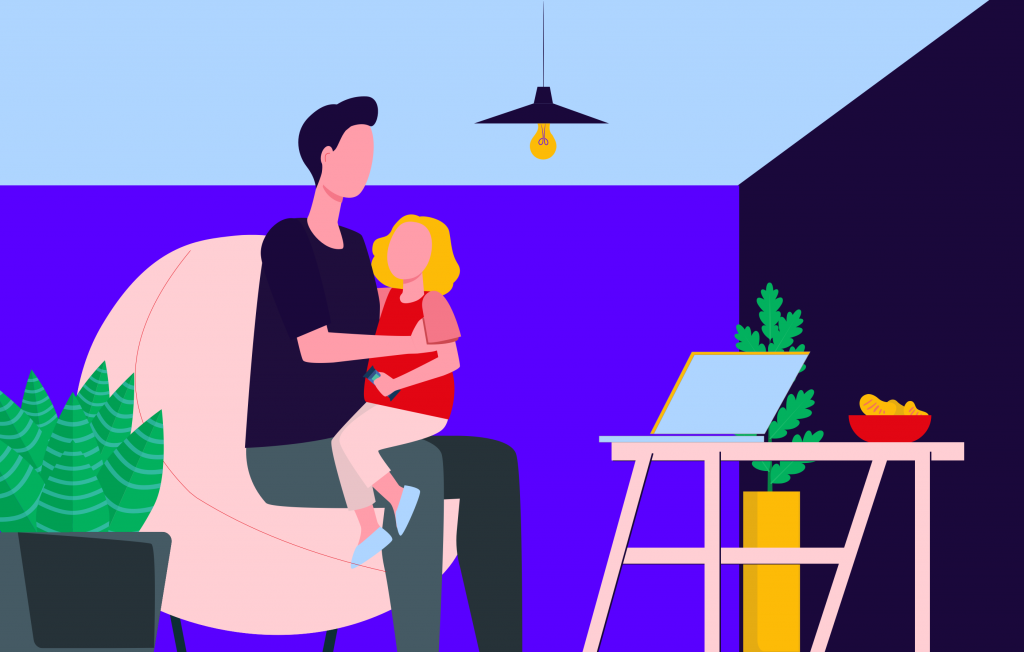 3. Access to online collaborative tools
Online collaborative tools such as Miro, Mural, Zoom and Teams enable employees to continue working. Although it has been a learning curve, there have been benefits of even greater levels of productivity and collaboration. The pandemic has accelerated how online digital tools support workers. Although in some industries there have been significant challenges, there have also been newfound freedoms.
People are benefiting from these tools to be able to work from anywhere in the world. They can record meetings that they were not able to make and maintain a limited, but new face-to-face communication. This time has normalised online whiteboard sessions, screen-sharing (and coining new catch-phrases like "you're on mute").
Boosting and maintaining employees' creativity and collaborative thinking is one of the biggest challenges organisational leaders will face in this new normal as remote work continues. Having access to online interactive tools will make the journey easier, however, it requires huge levels of engagement, adaptability and a 'can do' attitude from the entire team.
We hope you found this first article insightful. We encourage organisational leaders to maintain this culture of trust in the coming year. With the launch of a vaccine coming soon, we will see many people going back to work; however, we expect the new working model to allow employees to continue to have the flexibility and autonomy they highly appreciate as well as the extra time working from home gives them.
Our survey respondents said 83% want a hybrid work from office and home option in the future. Are you positive about the change to work from home? Have you moved home or rearranged your home space to accommodate the need to work?
Tomorrow we will be sharing the bad side of working remotely. If you are one of those missing the spontaneous interactions or those famous water cooler chats, stay tuned! We will cover that and way more.